Dwayne Taylor
President, Southeast Market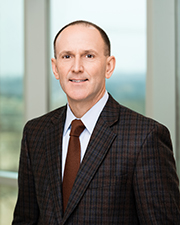 Dwayne Taylor is the president of Ballad Health's southeast market, with oversight of Sycamore Shoals Hospital, Johnson County Community Hospital, and Unicoi County Memorial Hospital.
Prior to this role, Taylor served as vice president and chief executive officer for Mountain States Health Alliance's Southeast Market, comprising Sycamore Shoals, Johnson County and Unicoi County hospitals.
Taylor joined Mountain States in 1990, first serving the system as a staff accountant. He then spent 10 years as the chief financial officer for Sycamore Shoals Hospital before becoming chief executive officer in 2006. During this time, Taylor led several key projects, including the planning and development of a new 35,000-square-foot medical office building, expansion of the emergency department, implementation of MRI services and the addition of geropsych services.
As a lifelong member of the Elizabethton community, Taylor is passionate about the region and about working with other community leaders on ways to grow and improve the community. He has served as a board member for the Hospital Alliance of Tennessee, the Elizabethton and Carter County Chamber of Commerce, is a member of the local Rotary Club and is a strong supporter of the United Way.
He and his wife Marsha are proud former members of the band boosters at Elizabethton High School. They have two adult children: Their son, Weston, is a student at East Tennessee State University majoring in sports management, and their daughter, Kirsten, is in graduate school at The University of Tennessee, Knoxville working on a degree in speech pathology.