Volunteering with Ballad Health
Ballad Health volunteers make a critical difference in our patients' lives by providing comfort and assistance for those who need it most.
Each year, volunteers of all ages spend countless hours working with our patients and their families in a wide variety of roles. The dedication of our volunteers is what helps us ensure that every patient receives the best possible care.
Who can volunteer?
Our volunteers include people from all backgrounds and ages – including high school students, college students, senior citizens, retirees and organization members.
To volunteer at Ballad Health, you must be at least 14 years old and complete a background check. To volunteer with Niswonger Children's Hospital, you must be of college age or older.
Please note that Ballad Health does not accept volunteers for court-appointed community service hours.
Why volunteering matters
Many of our volunteers choose to give back because of the important impact they have on our patients and visitors.
Ballad Health is a non-profit organization that works with rural communities all throughout the Appalachian Highlands. When visiting a hospital or healthcare facility, having a team of caregivers and volunteers to provide compassion and warmth can truly make a difference in a patient's stay and health.
"As a volunteer, the experience has given me a gratifying way to use what I have learned to give back in a meaningful way."

– Jim Forgey, Ballad Health Volunteer
If you're a part of a church, civic club or business group interested in giving back to the community, please consider having your members volunteer with Ballad Health.
Getting more than what you give
By volunteering with Ballad Health, you're directly helping strengthen our healthcare community.
Volunteering in one of our facilities is a great way to make new friends and gain experiences that will last forever, while providing personal care for our patients. It can also be a great way to de-stress and meaningfully utilize your free time. Our patients are very thankful for our volunteers, and you can often see the impact your work has almost immediately.
Our volunteers are also one of the best ways that we can gain feedback from our communities, and we depend on this input to continually improve the care offered in our facilities.
Gain valuable experience and skills
Ballad Health volunteer hours are a fantastic addition to any resume or college application. Our facilities often provide a fast-paced, service-oriented approach to volunteering, which gives you practical experience you can apply to your future employment or career.
If you're interested in pursuing a career in healthcare, volunteering in our facilities is the perfect way to get hands-on experience that can help you develop vital skills.
You can also volunteer if you're part of an organization or group that requires service or volunteering hours.
High school students can volunteer with Ballad Health to meet any extracurricular requirements for graduation.
Tennessee Promise participants are welcome to apply to meet their volunteering requirements, but we do ask that students commit to 30 volunteer hours per semester.
Our team is happy to write reference letters for those who need them!
Overcome retirement challenges
Many retirees find themselves missing their work or looking for something meaningful to spend time on.
Volunteering is one of the best activities to add to your retirement plan, as it allows you to choose your hours freely and focus on the type of role that leaves you the most fulfilled.
Ronnie, an extraordinary volunteer, has chosen to give his time to Ballad Health's Kingsport hospitals since 2002.
Ronnie was born with cerebral palsy and has been in leg braces since he was 3 years old. Since then, he's undergone eight surgeries, including a major hip surgery, after which he had to learn how to walk again.
But this condition has never slowed down his service, or his commitment to volunteering. Ronnie gets up at 3 a.m. daily to get dressed and catch a ride to the hospital on public transit. He serves in the surgery waiting room as the liaison between doctors and patients' family members.
"I don't look at it as volunteer work. I look at it as a career. I'm blessed to be able to do it," he said. "I do what I do to give back to the community because I feel like someone has taken care of me my whole life, and now, it's my time to take care of them."
Where can I volunteer?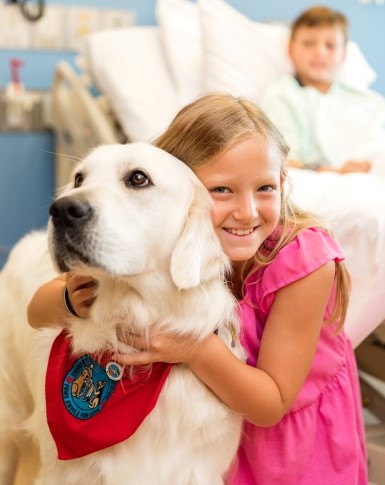 A variety of volunteer opportunities are available throughout our system, including:
Providing support for patients in hospice care, including visiting with patients and performing clerical duties
Participating in our pet therapy program

Our pet therapy program volunteers work with our therapy dogs and take them wherever they're needed, such as schools or healthcare facilities

Sharing your nursing skills with our Faith Community Nursing Program
Serving as a volunteer chaplain associate
Assisting hospital staff as a patient ambassador

Hospital volunteers can have a variety of duties, depending on the volunteer's skillset. Many of our patient ambassadors visit directly with patients and help them with small tasks. Some of our volunteers also provide clerical support

Sharing your musical and artistic talents with our patients

This can include singing or playing an instrument for patients, or utilizing your artistic skills for patient activities
You can even volunteer from home by knitting, crocheting or sewing items for donation to our facilities!
Current volunteer needs
Our immediate volunteer needs vary by facility. Examples of our most recent needs are:
Courtesy shuttle drivers

Holston Valley Medical Center in Kingsport, TN
Bristol Regional Medical Center in Bristol, TN
Franklin Woods Community Hospital in Johnson City, TN
Johnson City Medical Center in Johnson City, TN
Johnston Memorial Hospital in Abingdon, VA

Clerical support for our staff
Assistance in our cancer centers
Gift shop volunteers

All profits from our gift shops are donated to the hospitals to benefit patients and families

Patient ambassadors/patient unit help
Observation opportunities
High school students and recent graduates who are interested in pursuing a career in healthcare can also join Ballad Health's observation and shadowing program. This program allows students the opportunity to shadow a healthcare professional to develop academic and technical skills tailored to a career in healthcare.
How many hours can I volunteer?
Our volunteers can choose their hours to best meet the needs of their schedule. Most adult volunteers give between four and 12 hours per week.
We ask that high school and college students commit to about 30 volunteer hours per semester.
Apply today
You can submit a volunteer application for your chosen facility by clicking the links below.
After you've submitted your application, you will receive an email with further instructions. If you don't provide an email address, you will be contacted by phone within one to two weeks.
Tennessee applications

Bristol Regional Medical Center in Bristol, TN

Franklin Woods Community Hospital in Johnson City, TN

Greeneville Community Hospital in Greeneville, TN

Hancock County Hospital in Sneedville, TN

Hawkins County Memorial Hospital in Rogersville, TN

Holston Valley Medical Center in Kingsport, TN

Home Health Hospice in Bristol, TN

Indian Path Community Hospital in Kingsport, TN

Johnson City Medical Center in Johnson City, TN

Johnson County Community Hospital in Mountain City, TN

Niswonger Children's Hospital in Johnson City, TN

Sycamore Shoals Hospital in Elizabethton, TN

Unicoi County Hospital in Erwin, TN

Wexford House in Kingsport, TN

Woodridge Hospital in Johnson City, TN

Virginia applications

Ballad Health Cancer Care in Norton, VA

Dickenson Community Hospital in Clintwood, VA

Francis Marion Manor in Marion, VA

Johnston Memorial Hospital in Abingdon, VA

Lee County Community Hospital in Pennington Gap, VA

Lonesome Pine Hospital in Big Stone Gap, VA

Norton Community Hospital in Norton, VA

Russell County Hospital in Lebanon, VA

Smyth County Community Hospital in Marion, VA

Other programs

Faith Community Nursing Program

Pet Therapy

Call (423) 431-4776 or (423) 857-7570 to apply

Spiritual Health Services
Contact us
If you have any questions about our volunteer programs, you can reach out to our team online! Visit our contact form page and choose "Volunteers" as your topic. We'll get back to you as soon as we can.