Lindy White
President, Northwest Market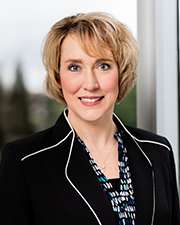 Lindy White brings more than 20 years of executive experience to her role as president of Ballad Health's Northwest Market, which includes Ballad Health's two Kingsport hospitals as well as the hospitals in Hawkins, Hancock, Wise and Dickenson counties and the planned hospital in Lee County.
As leader of the Northwest Market, White is responsible for leading Holston Valley Medical Center, Hawkins County Memorial Hospital, Hancock County Hospital, Indian Path Community Hospital, Lonesome Pine Hospital, Mountain View Regional Hospital, Norton Community Hospital and Dickenson Community Hospital. She is also working with the Lee County Hospital Authority to reopen the hospital in Pennington Gap, Virginia.
A native of Southwest Virginia, White was born in Smyth County Community Hospital and began her career in healthcare there as a staff accountant in 1992. During her time there, she earned a string of promotions, eventually becoming the hospital's chief executive officer in 2005. She has since served as chief executive officer of Franklin Woods Community Hospital and Woodridge Hospital, and later as chief executive officer of Holston Valley Medical Center and Indian Path Community Hospital.
Under her leadership, hospitals have received national awards for clinical quality, patient satisfaction and nursing excellence.
White earned her bachelor's degree in accounting and economics at Emory & Henry College in Emory, Virginia. She later earned her master's degree in business administration at Old Dominion University in Norfolk, Virginia. She is a certified fellow at the Advisory Board Company, and in 2014, she was appointed by the governor of Virginia to serve on the board of directors for the Southwest Virginia Higher Education Center.
She currently owns a farm in Gate City, Virginia.