Thursday, Mar 9, 2023
Ballad Health opens CVA Heart Institute office in Wise County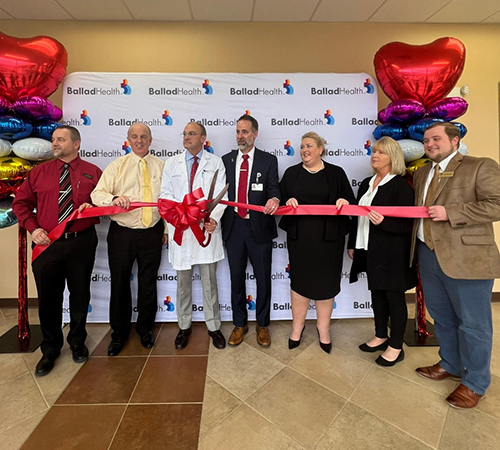 Patients in Wise County now have stronger access to specialty heart and cardiac care, with an upgraded Ballad Health CVA Heart Institute office in Norton, Virginia.
Located at 1490 Park Ave. NW, the CVA Heart Institute office is adjacent to Norton Community Hospital in the HealthPlex office complex, which also features a Ballad Health pharmacy and pediatrics office.
"The opening of this office keeps heart care local to the people of this community and gives them a convenient place for directly accessing Ballad Health's extensive network of experienced cardiologists, cardiovascular specialists and surgeons," said Shannon Showalter, chief executive officer for Ballad Health operations in Wise, Lee and Dickenson counties.
"We are excited to open this office, and we invite the people of Norton to visit us to get their heart care in check. We offer a number of treatment options that can't be found at other clinics in the area."
The new office will operate under the Ballad Health CVA Heart Institute's umbrella of specialty care, which accords patients access to a wide range of treatments, innovative techniques and services.
"We could not ask for a better location for this new office," said Herbert Ladley, MD, a cardiologist and chief medical officer of Ballad Health's facilities in Wise, Lee and Dickenson counties. "If patients have a need related to their heart or vascular health, we can address it here and get them on the road to a healthier life. And, for patients who need advanced cardiac services, we are now within eyeshot of the excellent team at Norton Community Hospital, which is another direct link to our network of heart care specialists."
Dr. Ladley said Ballad Health CVA Heart Institute offers a variety of specialty heart and vascular services, including outpatient testing, lab services, imaging and outpatient surgery.
"Our clinic features a team of dedicated specialists with decades of combined experience in treating cardiovascular disease, and we collaborate closely with our colleagues across the entire health system," Dr. Ladley said.
Ballad Health's network of award-winning cardiac care also includes Holston Valley Medical Center, which was named a Top 50 Cardiovascular Hospital by IBM Watson Health. Holston Valley was also named a 'Best Regional Hospital' and received high-performing designations in care related to heart attack, heart failure, stroke and transcatheter aortic valve replacement (TAVR) by U.S. News & World Report, while Lonesome Pine Hospital, also located in Wise County, has been recognized as being in the top 10% nationally for medical excellence in heart attack treatment by Quantros in its 2023 CareChex® awards.
Ballad Health offered community members a free blood pressure screening during the new office's ribbon-cutting event. Dr. Ladley said getting blood pressure checked regularly is vital to diagnosing heart problems early.
"High blood pressure usually has no warning signs or symptoms, and many people do not know they have it, which makes getting it checked all that more important," Dr. Ladley said. "Blood pressure problems – including low blood pressure – can be a harbinger for other cardiovascular trouble. And getting connected to a physician early, getting a diagnosis and starting a treatment plan is the best route to a good outcome."
In addition to Dr. Ladley, clinicians providing care at the new office include Sherryl Croiter, MD; Keith Kramer, MD; Johnny Fraley, NP; and Dana Meade, NP.
To learn more about the services offered at Ballad Health CVA Heart Institute in Norton, please call 276-679-0252 or visit www.balladhealth.org/locations/cardiology/cva-norton.