Thursday, Jul 15, 2021
Ballad Health names Dr. Karen Eller Shelton vice president and chief medical officer of Bristol Regional Medical Center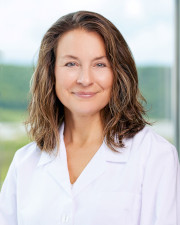 Ballad Health has named longtime local healthcare leader Karen Eller Shelton, MD, as vice president and chief medical officer of Bristol Regional Medical Center, bringing more than 20 years of experience as a well-regarded physician to the organization. 
Dr. Shelton will lead the medical staff services of the 312-bed hospital that serves Northeast Tennessee and Southwest Virginia. She will work closely with Dr. Chad Couch, Ballad Health's Northeast Market president and CEO, to strengthen relationships with various medical staff departments and ensure the organization delivers on its mission of delivering the best possible care to its patients.
"As a native of Bristol, I'm excited for the opportunity to continue serving my community, with its health at the forefront of what I do each day," said Dr. Shelton, who begins her new role on Monday, Aug. 23. "Bristol Regional is known for its award-winning care and exceptional physicians. I am excited to get to work more closely with the medical staff as we progress to becoming a top-decile organization.
"I am grateful to Ballad Health's leadership and the Bristol Regional Medical Center board of directors for entrusting me to lead the medical team, and I am honored to join Ballad Health as we work to deliver the best possible care for our community."
Dr. Shelton most recently served in the Virginia Department of Health as the Mount Rogers Health District Director and Acting Director for LENOWISCO and Cumberland Plateau Health Districts. There, she worked to promote the well-being of the public by working closely with local officials, community leaders, healthcare providers, faith-based groups and other state, regional and local agencies. She was also responsible for leading the management team, emergency preparedness initiatives, environmental health programs, population health initiatives and the novel coronavirus (COVID-19) pandemic response.
"Dr. Shelton is a proven leader in our community and an exceptional physician," said Chad Couch, MD, president of Ballad Health's Northeast Market and CEO of Bristol Regional Medical Center. "Having worked with her for many years, I know she is highly respected among our medical staff and is an excellent fit for our organization. I'm very excited to welcome her to Ballad Health."
Dr. Shelton began her professional healthcare career in 1997 as an obstetrician and gynecologist at Bristol Gynecology and Obstetrics in Bristol, Tennessee. She has held various leadership roles at Bristol Regional, chairing the Department of Surgery, the operating room committee and the Department of Women and Children. She also served on the performance improvement council and the medical executive committee. She is a member of the American College of Obstetrics and Gynecology, and the American Medical Association. She is also board-certified as a fellow of the American College of Obstetrics and Gynecology.
"Dr. Shelton has been committed to bettering the health of our community for many years and is passionate about providing the highest level of care," said Dr. Pitchar Theerathorn, chief of staff at Bristol Regional. "Her experience at the health department as well as her many years of medical practice, make her an excellent fit to lead and navigate the ever-changing healthcare landscape, as we continue to advance the care and services offered at Bristol Regional."
Dr. Shelton holds a Bachelor of Science degree from Wake Forest University and a Doctor of Medicine degree from the University of Virginia. She completed her residency in obstetrics and gynecology at Eastern Virginia Medical School and is trained in da Vinci robotic surgery.
"I understand the healthcare needs in our area and am honored to be a part of the great work Bristol Regional is doing to make an impact on the health our community," she said.
In addition to her professional role at Bristol Regional, Dr. Shelton serves on multiple boards and committees within the community, including the Accountable Care Community Leadership Council, a leadership council of the STRONG Accountable Care Community (ACC), which is composed of more than 300 community partners from local and regional businesses, community organizations, faith-based organizations, healthcare organizations, schools and more, working together to improve the overall health and well-being of the Appalachian Highlands. She also serves on the Southwest Virginia Health Authority and the Partnership for a Healthy Virginia committee.
Previously, Dr. Shelton was a member of the Local Advisory Council, an oversight committee for the Tennessee Department of Health that focuses on gathering the publics input regarding the Certificate of Public Advantage for the merger that created Ballad Health.