Nursing Careers at Ballad Health
Nursing sign-on bonus
Ballad Health is currently offering bonuses – up to $10,000 – for a limited number of nursing positions in some of our larger hospitals.
---
Open RN, LPN and CNA positions at Ballad Health
We're looking for people passionate about serving and giving back to their communities to join Ballad Health in improving the health and well-being of people across the Appalachian Highlands.

Who we are
Ballad Health is a non-profit healthcare system formed in 2018 – created from the merger of two systems that were an integral part of the Appalachian Highlands region.
We're now an integrated system serving 29 counties in Northeast Tennessee, Southwest Virginia, Western North Carolina and Southeast Kentucky. Our skilled and compassionate caregivers serve in 21 state-of-the-art hospitals and a wide range of specialty clinics nestled in the area's beautiful mountains.
We are proud that in 2020, Forbes Magazine named our organization one of the "best employers for diversity" in the United States, ranking Ballad Health 29th in the nation among all employers.
Hear what our nurses say about the benefits of working with Ballad Health.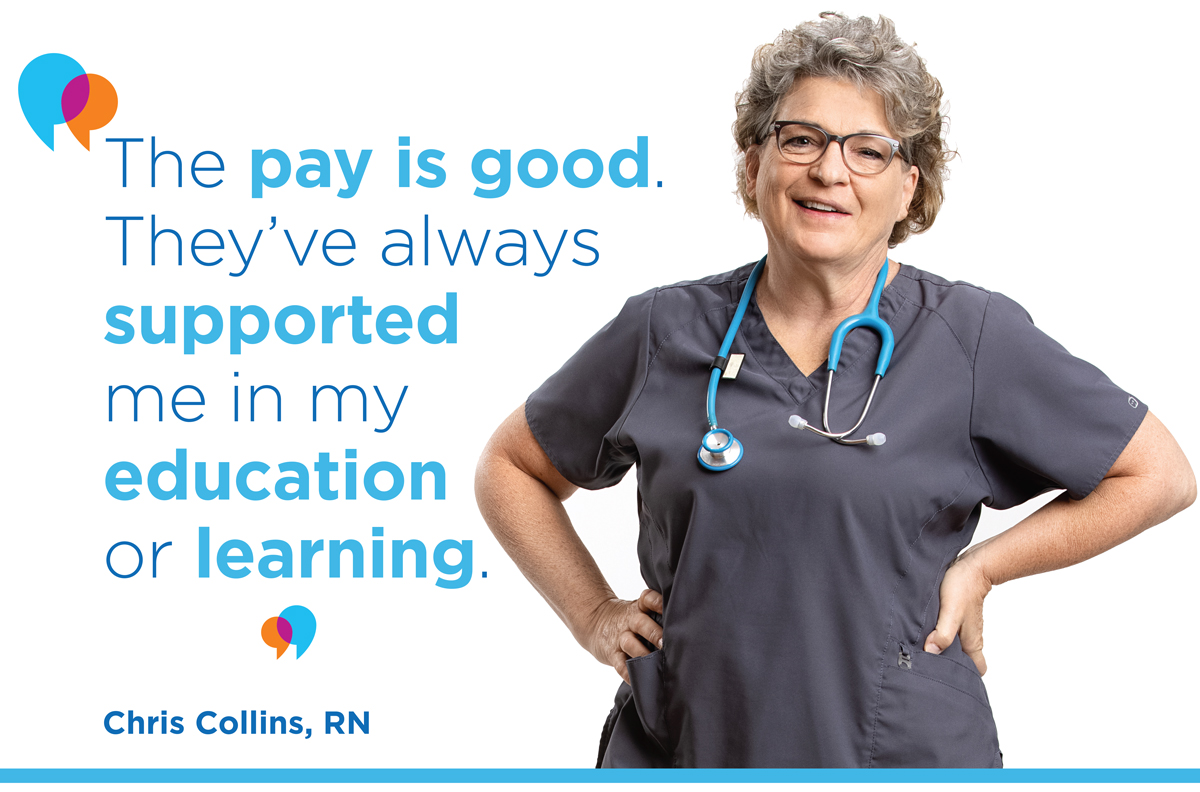 Re-imagining rural healthcare
Our partnerships and collaborative research with renowned medical institutions like Vanderbilt University Hospital, Mayo Clinic and others have helped us pioneer healthcare in our rural area.
Ballad Health has invested in advanced, innovative technology and services for our patients, including the best robotic surgery system on the market.
Serving Appalachia
We're a team of dedicated and skilled professionals striving to make a difference in the health and lives of people in our surrounding communities.
"Even though our community is rural, there's quite a bit to do here. The quality of life is good. Everybody's your neighbor. It's beautiful. It's friendly. It's home." – Taylor Moreck, RN
The Appalachian Highlands is one of the most beautiful places in the world, where family and work/life balance are highly valued.
Low cost of living
Beautiful landscape, perfect for camping, hiking, fishing, kayaking and more
Fantastic local entertainment, including music, festivals, great food and regional artistry
Communities that are expanding every year
It's a wonderful place to call home, and we're proud to be a member of a thriving community.

Apply today
"You know, you start working with each other from a professional standpoint, but you inevitably establish personal relationships. My coworkers have become like family." – Chandler Daugherty, RN
Our team members are driven to honor those we serve by delivering the best possible care, and we would love you to be a part of our story.
We invite you to grow your nursing career with Ballad Health. We're ready to invest in you.
You can apply for one of our open registered nurse, licensed practical nurse or certified nursing assistant positions by clicking the link below.
Apply for a Nursing Job Today!
Download the Imagine Your Nursing Career Booklet [PDF, 7 MB]
Nursing student internships and scholarships
The Ballad Health Nursing Institute offers nursing students a wide variety of opportunities and resources, including:
Learn more about Ballad Health's programs for nursing students.
Certified nursing assistants
CNAs are the backbone of our healthcare system, which is why Ballad Health offers free state-approved training programs to help get you ready for a certified nursing assistant career.
Find out more about CNA careers at Ballad Health.
Contact us
If you have any questions about our nursing programs, student aid or residency program, please contact one of our recruiters at recruitment@balladhealth.org or call (423) 302-3299.