Thursday, Oct 20, 2022
Ballad Health Medical Associates launches pediatric services at Family Medicine and Internal Medicine in Johnson City, welcomes experienced provider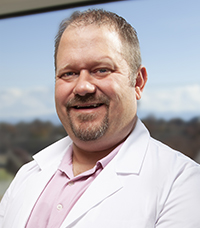 As Ballad Health focuses on building healthy starts for children across the Appalachian Highlands, pediatric patients in Johnson City will have a new starting point for their healthcare.
Ballad Health Medical Associates, which currently has pediatric practices throughout Northeast Tennessee and Southwest Virginia, is expanding its pediatric services to Johnson City, marking its first primary care access point for children in the city. Now open, the pediatric branch of Ballad Health Medical Associates Family Medicine and Internal Medicine sees patients from newborns to age 18 for a wide range of preventive and specialized care, in addition to the practice's established services for adult patients.
"This clinic provides pediatric medical services that our community needs, while bolstering our local youth's access to the best healthcare, whenever and wherever they need it," said Mark Patterson, MD, president of Ballad Health Medical Associates. "This facility gives top-notch care from a top-notch team that starts local and stays local, reaching families and children where they live."
The new location will ensure babies, children, teenagers and their families have a safe and convenient location to receive the healthcare they need to go to school, play sports and stay healthy. This clinic aims to provide high standards of care and well-being for the whole family, from birth onward.
Patients will have access to a variety of services and care that includes:
Well-child and sports physicals
Acute care visits, such as high fevers, injuries or episodes of illness
Routine vaccinations
ADHD, behavioral health disorders and in-office procedures
As part of Ballad Health, Ballad Health Medical Associates Family Medicine and Internal Medicine offers access and referrals to high-level facilities and resources throughout the region, including to the pediatric services and specialists of the Ballad Health Niswonger Children's Network.
"A strong community starts with strong healthcare, and that's exactly what families can find at this new clinic," said Justin Jones, DO, the provider at Ballad Health Medical Associates' new clinic. "Caring for young people requires a specific approach, and we will develop a personalized care plan that meets the needs of every child who walks through our doors with the same high-quality care options offered at all of our internal and family medicine locations."
Dr. Jones is no stranger to pediatric care within Ballad Health Medical Associates. Prior to joining the Johnson City pediatric clinic, he practiced at Greene Mountain Pediatrics in Greeneville, also a branch of Ballad Health Medical Associates, for more than a decade. With roots in St. Louis, Missouri, Dr. Jones has called the Appalachian Highlands home for more than 15 years, moving to the region for his medical school residency at East Tennessee State University. Dr. Jones also earned his medical degree from the Virginia College of Osteopathic Medicine and is board-certified in pediatrics by the American Osteopathic Board of Pediatrics.
The pediatric clinic at Ballad Health Medical Associates Family and Internal Medicine is conveniently located in north Johnson City at 1021 W. Oakland Ave., Suite 301. The practice is open on Monday through Friday from 8 a.m. to 5 p.m.
Parents can call 423-952-8000 to be seen as early as the same day. Established patients can also enjoy the benefits of walk-in visits for same-day access.
Ballad Health Medical Associates provides primary and specialty care healthcare services to Northeast Tennessee, Southwest Virginia and select locations in Northwest North Carolina and Southeast Kentucky. Find more information about these services, as well as additional pediatric resources through Ballad Health, at www.balladhealth.org.