Thursday, Nov 10, 2022
Ballad Health strengthens patient services and medical education resources by centralizing two residency clinics in Wise County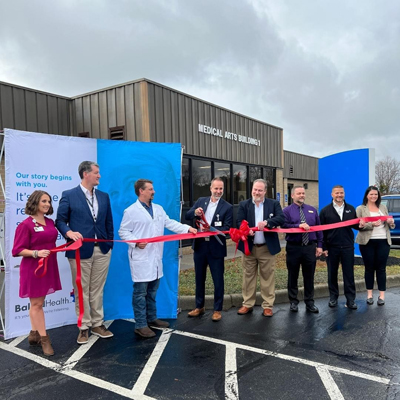 Ballad Health is strengthening patient services and medical education resources by centralizing two Wise County residency programs and their affiliated clinics into one convenient location.
Ballad Health Medical Associates Family Clinic in Norton, which serves patients of all ages, is moving locations and joining Ballad Health Medical Associates Community Clinic, an internal medicine clinic that cares for adult patients. The two programs will maintain their individual practices, but they will be housed together in Medical Arts Building 1 on the campus of Norton Community Hospital, providing a more convenient access point and suite of patient services.
Both practices are also home to Ballad Health's Wise County medical residency programs, where family and internal medicine interns and residents receive training and experience under the supervision of attending physicians with Ballad Health Medical Associates. The internal medicine clinic was already housed in Medical Arts Building 1, while the family medicine program will be moving from the campus of nearby Lonesome Pine Hospital.
"We continue to seek ways to advance our healthcare and services in Wise County, and bringing these two clinics under the same roof is an exciting development for our patients and residency programs alike," said Bernie Sergent, DO, designated institutional official for Ballad Health's Northern Region, which includes Wise County. "We're also pleased to expand some of the services we offer and add options like laboratory services for our patients, so they're readily accessible in one building."
With a focus on providing care to underserved and rural communities, the family medicine and internal medicine residency programs recruit medical residents with the goal to bolster primary care physician availability in Southwest Virginia and across the Appalachian Highlands.
The residency programs are designed to enable medical residents to customize curriculum toward practicing outpatient or hospitalist medicine or preparing for medical fellowships.
"As part of the leadership team for the residency programs, I'm excited about the opportunities that will arise from bringing both programs under one roof," Dr. Sergent said. "We can all look forward to a cooperative relationship in our academic and training realms, as well as the patient care arena."
The strength of the residency program comes from a hands-on approach, where residents have direct responsibility in patient care while practicing under the supervision of physicians within Ballad Health Medical Associates, such as Ashley McGuire, DO, the program director for the family medicine residency program, and Brian Newberry, DO, the program director for the internal medicine residency program.
"Both residency programs have a long history of preparing physicians who are able to go into any role, from rural primary care to specialization to focus on a broad range of knowledge," said Matthew Loos, MD, Ballad Health's chief academic officer. "Education and healthcare are both key to bolstering the vitality and viability of the Appalachian Highlands, and when we support one, the other benefits as well.
"Grimly, we're facing a deficit of physicians in Southwest Virginia, but Ballad Health's residency programs – both in Wise County and throughout the region – are enabling us to recruit, educate and retain highly-talented physicians through leading-edge curriculum and hands-on training in a rural community."
Beyond the enhancement to the residency clinics, the facility also underwent a renovation, modernizing its space for optimal patient comfort. Moreover, if care beyond the practices is required, Medical Arts Building 1 is close to Norton Community for follow-up or specialty services.
"With this move, we're continuing to enhance the high-quality healthcare we already have in Wise County," said Shannon Showalter, chief executive officer for Ballad Health's operations in Wise, Lee and Dickenson counties. "Practitioners in a small-town and rural setting help the great people here in a very palpable way, and we are excited to enhance our services for a mutually beneficial relationship between the patients and the medical residents."
This centralization of clinics and residency programs is the latest healthcare renovation in Wise County. Last December, Ballad Health announced the renovation and expansion of Lonesome Pine Hospital in Big Stone Gap. Renovations will update the existing acuity adjusted unit, which provides a treatment model to allow for all stages of patient care, from admission to discharge. The facility will maintain 14 inpatient and observation beds, while the updates will improve the unit's function and flow to better accommodate patient needs and optimize patient results.
"This is just a glimpse of what healthcare is going to look like 10, 20 years down the road, and we couldn't be more excited about the future of healthcare here in Wise County and all of Southwest Virginia," Showalter said. "Ballad Health has shown again and again that we're more than willing to step up to the plate for rural communities, and the continuous growth to help patients by recruiting talented practitioners to the region."