Accountable Care Community
Accountable Care Communities – or ACCs – "address health from a community perspective, pulling multiple stakeholders together in a coalition that shares responsibility for addressing multiple determinants of health.
"ACCs add value to healthcare settings because they enable the healthcare system to reach patients in their own environments through local agencies better positioned to take advantage of the social infrastructure that already exists (e.g., schools, businesses, community organizations, and faith organizations)."
– from the North Carolina Medical Journal [article PDF]
What makes us healthy?
By far, the biggest factor contributing to our health is healthy behavior.
Other key factors include:
Social and economic factors
Environment
Genetics
Medical care, you might be surprised to know, accounts for only 20% of our health outcomes.
What we spend on being healthy
Though our behavior and other non-medical factors account for roughly 80% of our overall health, 88% of what we spend on our health goes to clinical care.
That's why Ballad Health must work with community partners to address the health needs of our region.
Our community will never be as healthy as it can be if we rely solely on medical care to get us there.
Where an Accountable Care Community comes in
Partnering for better health
Accountable Care Communities impact population health by forming these critical community partnerships, which include:
Public health organizations
Healthcare organizations
Social services organizations
Faith-based organizations
Regional businesses and chambers of commerce
Schools
And more
Through partnerships across these different sectors of society, ACCs emphasize shared responsibility for the health of a community.
ACCs in other parts of the country are showing that it's possible to design systems that successfully address both social and economic factors to help improve population health.
How does an ACC work?
ACCs work by developing a shared vision across community organizations.
From that starting point, they:
Prioritize health outcomes

– By identifying the outcomes most important for the region, partners in the ACC can focus on efforts that will make the biggest impact locally.

Develop and implement strategies for integration

– By better coordinating services among partner organizations, everyone can make a greater impact.

Share health outcomes data

– By sharing data not usually available to other organizations, partners have a stronger foundation for decision-making and get a clearer picture of where progress is being made and where progress is lagging.
Building an ACC in our region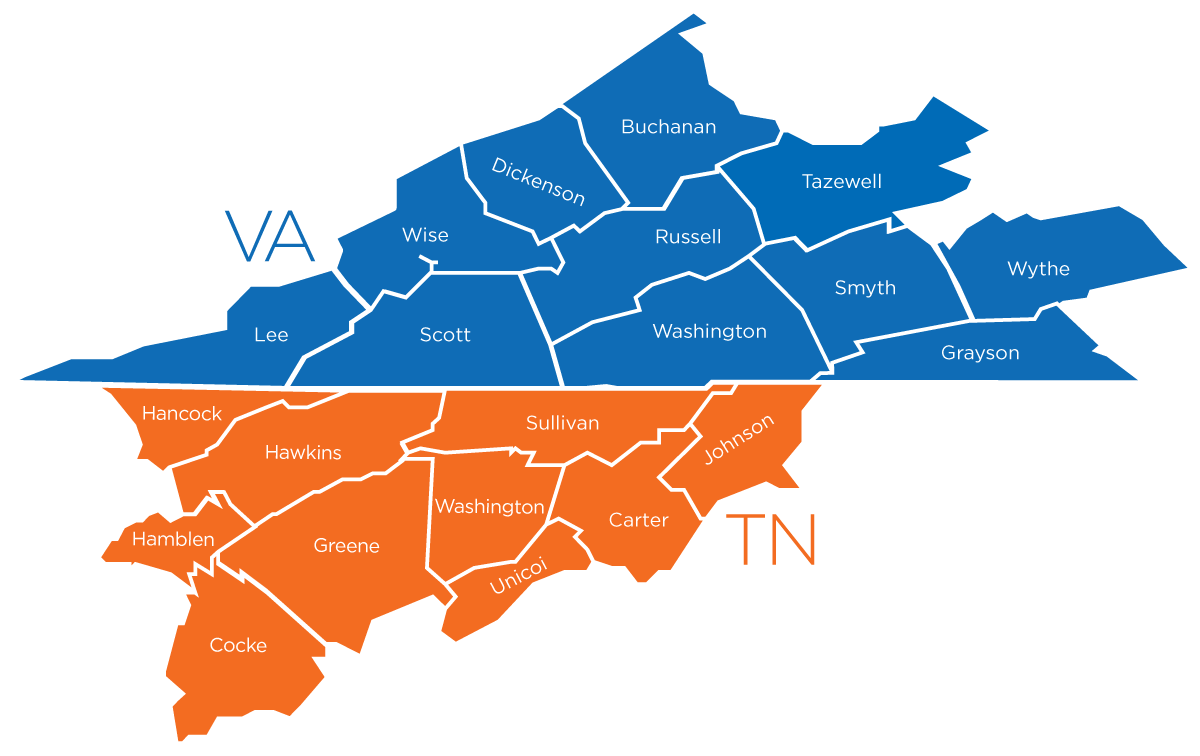 Our 21-county Accountable Care Community region
A newly formed partnership of Ballad Health, Healthy Kingsport and the United Way of Southwest Virginia serves as the backbone of the Accountable Care Community for our region.
What's been accomplished so far
Much of the groundwork has already been laid for the ACC in Northeast Tennessee and Southwest Virginia.
In addition to selecting the lead support organizations – Healthy Kingsport and United Way of Southwest Virginia – we have already:
Established the initial 24 ACC leadership committee organizations, which have already met
Identified other organizations from across the region, which have been invited as members
Convened members to prioritize focus areas
4 key priorities
After five sessions across the region in which more than 80 organizations participated, priority areas have been identified.
Substance abuse
Tobacco use
Obesity
Childhood trauma and resilience
The ACC will focus initially on the supportive systems, programs and environments that nurture strong children and families to help them develop key characteristics that lead to success in life.
Next steps for the ACC
The initial group of 150 community stakeholder groups, along with others joining the effort, will focus on key markers of success, such as 3rd grade reading proficiency and substance-free families.
Ultimately, the group wants to see more children succeed in school, go on to college and have productive careers, and see more families succeed in overcoming generational barriers to success in life.
Want to join the ACC or learn more?
Businesses, organizations and individuals interested in participating in the Accountable Care Community should contact:
In Tennessee: Healthy Kingsport
In Virginia: Travis Staton of United Way of Southwest Virginia
ACC leadership council members

Patrick Brunty, Russell County Department of Social Services

Claudia Byrd, Speedway Children's Charities

Dr. Dennis Carter, Smyth County Public Schools

Laura Davis, Mount Rogers Community Services Board

Josh Davis, Eastman

Rebekah English, Northeast Tennessee Regional Health Office

Lori Hamilton, K-VA-T Food City

Kristie Hammonds, Frontier Health

Marty Holliday, New River/Mount Rogers Workforce Development Board

Jim Lancaster, Cigna

Dr. Jeff Moorhouse, Kingsport City Schools

Dr. Linda Nelms, Walters State Community College

Erika Phillips, Hawkins County School District

Sandy Ratliff, Virginia Community Capital

Beth Rhinehart, Bristol Chamber of Commerce

Dr. Karen Schetzina, East Tennessee State University Pediatrics

Dr. Sarah Seely-Dick, Highlands Pediatrics

Dr. Karen Shelton, Mount Rogers Health District

William Shepley, Grayson County

Dr. Joe Smiddy, The Health Wagon

Barry Staubus, Sullivan County

Mary Trigiani, New Peoples Bank

Kathy Waugh, YWCA of Northeast Tennessee and Southwest Virginia

Dr. Kris Westover, Mountain Empire Community College