Family Medicine Residency Leadership – Abingdon
Johnston Memorial Hospital
Read about our program leadership below.
Message from our program director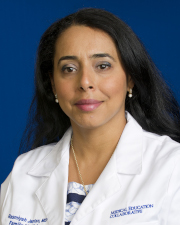 Dr. Rasmiyah Jastan
Welcome! We are excited about your interest in the Johnston Memorial Hospital Family Medicine Residency Program. We're proud to have all the elements of a family medicine program delivered in the setting of a friendly, rural Appalachian community located in Abingdon, Virginia. In an effort to increase access to primary care for the residents of Washington County, Virginia, Johnston Memorial accepted the first residents for the inaugural Family & Internal Medicine residency programs in July 2015. Our community hospital is a beautiful, award-winning facility that has endeavored to create a high-quality, innovative residency that produces highly qualified family physicians, promotes resiliency and fosters a culture of teamwork.
Johnston Memorial is part of Ballad Health, a 21-hospital integrated healthcare system serving 29 counties in our region. Being part of this accountable care organization has allowed for increased opportunities for our residents regarding rotation experiences, specialist access, research support, and increased funding for residency and medical education.
A key to an excellent training program is the quality of the residents and faculty who form it. We are fortunate to have a diverse and cohesive group of talented residents who are supportive of one another. We also have dedicated faculty who love to teach, get to know you personally, and go out of their way to ensure the residents' success. Our primary care clinic is a spacious facility with 24 exam rooms and ample area for teaching by the core faculty as well as room for collaborating with fellow residents along with our in-house clinical pharmacist and behavioral medicine specialist.
We are committed to training residents who can excel in practice anywhere but are hopeful they will remain in our region! Johnston Memorial and the Primary Care Center both provide a rich variety of patient complexity. Here, you will be trained to become a lifelong learner, and we'll enable you to provide evidence-based care to your patients no matter their age or degree of health.
The lifestyle here has been a draw for our residents. There are great restaurants, unique local shops and farmers market, and outdoor activities that include watersports, hiking on the nearby Appalachian Trail or state parks, and walking or biking the Virginia Creeper Trail which is a 34-mile rails-to-trails path starting in downtown Abingdon. Easy access to larger cities is also feasible with Bristol, Kingsport and Johnson City, Tennessee, and Asheville, North Carolina, close by. Tri-Cities Airport is also only a 30-minute drive away.
The Johnston Memorial Family Medicine Residency Program is supportive, challenging, flexible, innovative and responsive to the needs of the resident physician. This is a program you can help shape, grow, and develop. I have had the pleasure of being involved in the program from its inception in 2015 as a faculty member to my new role as the program director. I look forward to building upon the strong foundation built years ago as we continue to provide top-notch training for future family physicians. Feel free to call, email or visit to learn more about our program!
Rasmiyah Jastan, M.D.
Family Medicine Program Director
---
About Dr. Jastan
Dr. Jastan is board-certified in family medicine and graduated from the Beirut Arab University Faculty of Medicine in Beirut, Lebanon with a Medicine Bachelor & Bachelor of Surgery degree. After a transitional year internship, she trained for two years in General Surgery before completing a residency in Family Medicine at the University of Pittsburgh Medical Center. Dr. Jastan remained for a fourth year at the University of Pittsburgh to serve as chief resident and then later earned a Mini-MBA Certificate from the Graduate School of Business at the University of Pittsburgh.
A graduate of the Ballad Health Physician Leadership Academy in 2017, Dr. Jastan is dedicated to cultivating positive and enduring relationships with patients, educating them and their families, and serving as their advocate in a constantly evolving healthcare system. She has a passion for teaching and a special interest in preventative medicine. Her hobbies include spending time with her family.
---
William Haynes, Jr., Ph.D.
Behavioral Medicine Director
Dr. Haynes earned his master's degree in community counseling from Georgia State University and his PhD from Regent University. He has professional interest in the areas of cognitive behavioral therapy, mindfulness-based approaches and the treatment of chronic pain.
Currently, he is working toward a Behavioral and Family Education Fellowship.
Dr. Haynes enjoys playing guitar, reading and skiing.
Jeff Merrill, M.D.
Associate Program Director, Core Faculty
Dr. Merrill is board-certified in family medicine and sports medicine. He received both his bachelor's and master's degree in physical education/exercise physiology from the University California at Davis. He attended medical school at the Medical College of Virginia and completed his family medicine residency at Moses H. Cone Memorial Hospital in Greensboro, North Carolina.
Professionally, he likes to help patients and their families achieve maximal health and wellness by incorporating exercise into care plans. He hopes to establish the Family Medicine Residency Program as a Center for Innovation were faculty and residents collaborate and brainstorm to create more efficient and effective models of primary care.
Dr. Merrill enjoys cycling, paddling, hiking, and running with his wife, two daughters, and Jack Russell Terrier/Chihuahua.
Laramie Triplett, M.D.
Outpatient Clinic, Core Faculty
A product of the University of Mississippi, Dr. Triplett carries board certification in family medicine and has professional interest in outpatient family medicine.
His internship and residency were at the University of Mississippi Department of Family Medicine.
He also received his undergraduate degree from the University of Mississippi.
Derek White, D.O.
Outpatient Clinic, Inpatient Medicine, Core Faculty
A native of Richlands, Virginia, Dr. White received his bachelor's degree from Virginia Tech and attended medical school at the West Virginia School of Osteopathic Medicine. He completed his residency training in Abingdon at the Dr. S. Hughes Melton Family Medicine Residency program at Johnston Memorial Hospital.
Board certified in family medicine and with a strong interest in academic medicine, Dr. White works alongside residents teaching the outpatient clinic as well as the hospital.
Dr. White enjoys spending time with his wife, playing the drums, hunting, fishing and golfing.
Susan Abel
Program Manager
Susan received her Bachelor's Degree from Presbyterian College in Clinton, S.C. – go Blue Hose! She has been in healthcare for more than 10 years, initially working in marketing and communications and most recently in the area of graduate medical education.
A proud Army brat from Savannah, Georgia, she has lived in Abingdon for over a decade. She enjoys spending time with her amazing husband and two wildly wonderful children, being active, tending to the family mini-farm and is an avid volleyball fan, having played and coached at many levels.