Family Medicine Residency – Big Stone Gap
Lonesome Pine Hospital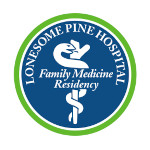 Ballad Health's family practice residency program in Big Stone Gap, VA, is affiliated with Lincoln Memorial University's DeBusk College of Osteopathic Medicine.
Program residents will be trained by expert physicians who are skilled in traditional family practice and hospitalist services. On completion of the program, residents will have the confidence and expertise to deliver care to a variety of patients.
Contact us
Amanda Hall - Program Coordinator
Amanda.Hall@balladhealth.org
295 Wharton Lane NE, Norton, VA 24273
(276) 679-7457
Message from the Program Director
Welcome! Thank you for your interest in Wellmont Health Systems-Lonesome Pine Hospital, Family Medicine Residency Program.
Our Family Medicine Residency Program is dedicated to educating compassionate and competent Family Medicine Physicians who are prepared to improve the health and wellbeing of individuals and communities. Our physicians will focus on service to rural and underserved communities and be fully prepared to provide high quality care in all settings.
Our Program is located in a rural community in Beautiful Southwest Virginia, within a very short distance of Tennessee. This area is part of what is known here as The Tri-Cities, a region comprising the cities of Kingsport, Johnson City, Bristol and the surrounding smaller towns and communities in Northeast Tennessee and Southwest Virginia. Our Family Medicine Residency Clinic is in Norton, VA. Our Sponsoring Institution is Wellmont Health Systems.
There are recreational activities available for most anyone regardless of your interests including hiking, fishing, boating, golf, festivals and outdoor drama productions. A short distance away you have a choice of restaurants, shopping and endless other activities. We find our strengths also make our Family Medicine Residency Program unique:
We are located in a rural community and our residency program takes on the traits of the amazing rural communities we serve. We are a close knit group who count on each other and we work closely together to fulfill our program's mission.
Our residents have opportunities to do rotations a short distance away at Bristol Regional Medical Center and Holston Valley Medical Center. Both Holston Valley Medical Center and Bristol Regional Medical Center provide high quality medical care and both have continued to be recognized among the nations' best hospitals. Holston Valley most recently was named a Top 50 Cardiovascular Hospital by IBM Watson Health, the fifth time HVMC has received this award.
We have the ability to form your experience here during completion of your residency to match your career goals after residency whether your plans are for fellowship training, hospitalist medicine or outpatient medicine. Our Graduates have went on to attend Fellowship programs in both Geriatrics and Sports Medicine, Practice rural medicine in outpatient clinics and as hospitalists in both rural hospitals such as LPH and larger hospitals like BRMC and HVMC.
We Focus on Wellness of our Residents offering a multitude of resources and support including a Faculty Mentoring program in which the resident is assigned a faculty member who will follow with them throughout residency and are available for assessment of wellness, recommendations and to help with Resident scholarly activity.
We have great program faculty, some who have been involved with the program since it started in July 2009. Many physicians who have completed Lonesome Pine Hospital Family Medicine Residency Program found they just couldn't help but to stay in the area due to both the relationships formed during residency and their love for the area and have remained involved with and loyal to the program and it's residents.
I invite you to review our website and our video for further information and if you feel this is a program you are interested in being a part of then we are also interested.
Ashley McGuire DO
LPH Family Medicine Program Director 2021
Benefits & salary
The family residency program boasts a competitive salary and excellent benefits. Family medicine residents also receive time to participate in educational conferences, vacation days and educational allowances based on program year.
Curriculum
The residency program curriculum is 36 months long and meets all residency requirements, including a first-year internship. Our schedule is made for an entire year, and consists of 4 weeks blocks.
Residents work under the guidance of dedicated faculty members, receive hands-on training in a wide range of specialties and have direct involvement in their patients' care. Residents are also required to do one research project and one quality improvement project. Each resident is assigned a faculty member as a research mentor.
For a well-rounded medical training experience, residents also have access to tertiary care hospitals for rotations in specialized fields, including critical care, cardiology, neurology and neonatology.
Location
As a resident, you will work in a rural setting for primary care training, while also gaining invaluable experience from larger hospitals.
Read about the program locations.

Lonesome Pine Hospital – Big Stone Gap, VA

Lonesome Pine offers various inpatient and outpatient services, including a 24-hour emergency department with 14 beds and three trauma/cardiac rooms. The facility offers inpatient and outpatient surgery, obstetrics and gynecology, physical therapy, pediatrics, wound care, cardiopulmonary and respiratory services, including a four-bed sleep evaluation center.

Holston Valley Medical Center – Kingsport, TN

Holston Valley houses one of Tennessee's six Level I trauma centers, while its Level III neonatal intensive care unit heals some of the region's sickest babies. Operating suites a new intensive care unit and expanded emergency and radiology departments were part of a $114 million renovation of the facility.

The Christine LaGuardia Phillips Cancer Center at Holston Valley provides a full range of diagnostic and treatment options. The hospital's breast center is Tennessee's first hospital-based breast program to be accredited by the American College of Surgeons' National Accrediting Program for Breast Centers.

Bristol Regional Medical Center – Bristol, TN

The first area hospital with stereotactic radiosurgery and a digital cardiac cath lab, Bristol Regional provides superior, innovative care with compassion. 

Bristol Regional continues to be recognized among the nation's best hospitals with award winning heart care and state-of-the-art facilities such as: 

Deborah H. Quillen Birthing Center, a newly renovated facility where families can welcome new life in comfortable, updated surroundings
Highly acclaimed Level II trauma center and 24/7 emergency and surgical services
Pediatric ER
Primary stroke center – the region's first – offering around-the-clock neurological coverage
Leonard Family Comprehensive Breast Center, which provides a full spectrum of breast care – from cancer prevention and screening to detection, diagnosis, treatment and survivorship
Imaging services at two Bristol locations, the Volunteer Parkway Imaging Center and Sapling Grove Imaging Center

 

[ end accordion ]

 

-->

Accreditation
The family practice residency program is accredited by the Accreditation Council for Graduate Medical Education (ACGME).
Current residents
Additional program information
47 residents have completed our family medicine residency program, 14 are currently employed by Ballad Health System.
18 residents are presently enrolled in the residency program.
Our residents have a board pass rate of 99.9 on first attempt.
A quick look at our program's history [PDF]
Frequently asked questions [PDF]
Affiliated training sites
Lonesome Pine Hospital
Mountain View Regional Medical Center Long Term Care
Holston Valley Medical Center
Bristol Regional Medical Center
Wellmont CVA Bristol
Charleston Area Medical Center
Heritage Hall
Appalachian Orthopaedic Associates
Cutting Edge Dermatology
Watauga Orthopedics
Norton Community OB/GYN
Ballad Health Medical Associates Internal Medicine and Endocrinology
Ballad Health ENT-Otolaryngologist Norton
Norton Community Hospital-Surgery
Dermatology Associates - Kingsport
Dickenson Community Hospital
Administration
Designated Institutional Official - Dr. Bernie Sergent, DO
Program Director - Dr. Ashley McGuire graduated from the LPH Family Medicine Residency program in 2018 and worked in Tazewell County as a Primary care physician before returning to the program in 2020 and taking over the role of Program Director in 2021.
Assistant Program Director - Dr. Alli Delp graduated from the LPH program in 2019.  After graduation, she worked in Lee County as a Primary Care Physician for Ballad Health. Dr. Delp is currently full-time clinic supervisor at the Residency Clinic in Norton.
Program Coordinator - Amanda Hall began working for Lonesome Pine Hospital in 2004 after obtaining her Bachelor Degree from the University of Virginia College at Wise. With 17 years combined experience in Human Resources and Graduate Medical Education, she provides excellent support to our program and residents.  She along with her husband and 3 daughters spend their free time supporting local sports, school and community events and are avid University of Alabama fans.
Medical Education Program Specialist/Student Coordinator- Heather Crum began working with the residency program 5 years ago and has worked with Wellmont/Ballad Health 22 years. She lives with her two children in Appalachia, VA.
Staff information
Dr. Kyle Ward, Core Faculty - Dr. Ward is a 2013 graduate of the LPH Family Medicine program and has worked here at the FM Residency clinic since that time and remains very involved with Resident education.
Dr. John Brannum, Core Faculty- Dr. Brannum is a 2018 graduate of the LPH FM residency program and is currently ER faculty at LPH and Lee County Hospitals.
Dr. Chris Basham, Core Faculty - Dr. Basham has been in practice in the area since 2002 and is a graduate of the ETSU Family Medicine Residency. He has been involved in Graduate medical education for more than 15 years.
Learn more today
Please call (276) 679-7457 to request more information about the family medicine residency program at Ballad Health.